Fiducial guided IGRT with curative intent as a bladder-preserving treatment option for bladder cancer patients
A study by James et al. found that 67% of patients with muscle-invasive bladder cancer (local disease of different invasiveness) had a 2-year disease-free survival and an overall survival of 48% after bladder-preserving chemoradiation
White paper: BioXmark® for high-precision radiation therapy of bladder cancer
Discover the advantages of BioXmark® and the clinical evidence for its use to guide bladder cancer radiation therapy: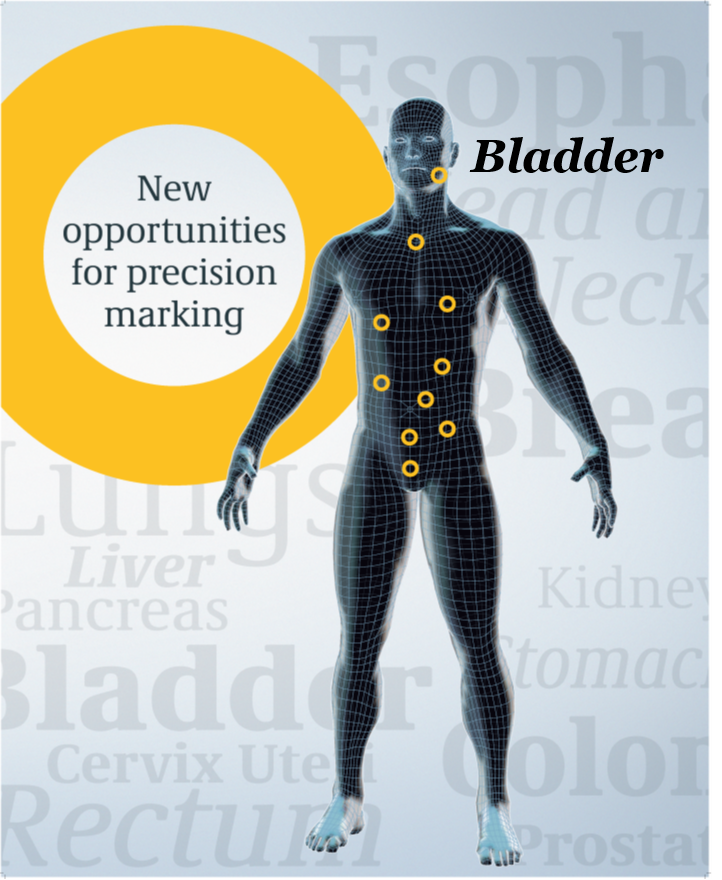 Click to download the white paper
Bladder sparing cancer treatment as an alternative to radical cystectomy
– Video presentation
A multidisciplinary team from Amsterdam UMC in Holland shares their experience with the offering of a bladder sparing –  and still curative – treatment option based on liquid fiducial guided high-precision radiation therapy, to patients with muscle-invasive bladder cancer.
Facts about bladder cancer
Bladder cancer is the 10th most common cancer worldwide with an estimated annual number of 549,393 new cases and 199,922 deaths.
There is a substantial predominance of males observed in the number of new cases and deaths everywhere in the world(1). A total of 197,105 new cases are observed in Europe annually among both sexes(2). With 61,700 new cases annually bladder cancer is the fourth most common malignancy among men in the US following prostate, lung and colorectal cancers. Adding 18,770 cases in women and a total number of 17,670 deaths annually in both sexes(3).
90% of bladder cancer patients are older than 55 years at the time of diagnosis with at mean age of 73 years(4). Cigarette smoking is the main risk factor for developing bladder cancer(1,5).
Clinical presentation and diagnosis
Painless hematuria (blood in the urine) is the most common first sign of bladder cancer. Irri­tative voiding symptoms are often present (e.g., urinary frequency, urgency, nocturia, dysuria). Obstructive symptoms, such as reduced or intermittent urine stream, straining, or feeling of incomplete void­ing, can be experienced by patients if the tumor is located close to the bladder neck or urethra(6).
The diagnostic evaluation of patients with suspected bladder cancer includes cystoscopy, assessment of renal function and CT urography. If any pathology is identified, the patient should undergo transure­thral resection of the bladder tumor (TURBT). This pro­cedure gives essential information for definitive histological diagnosis, staging, and grading, and allows for removal of visible tumor as well as tissue sampling of surrounding muscle to assess depth of the tumor.
Treatment
The management of bladder cancer depends on the local extent of the tumor and the staging as determined in the initial diagnostic workup.
70-80% of bladder cancers are constituted by non-muscle-invasive bladder cancer. The primary treatment of these tumors is TURBT followed by installation of Bacillus Calmette-Guerin or intravesical chemotherapy. For low risk tumors this is considered the complete therapy. With higher risk tumors frequent repeat TURBT can be relevant(5,6).
Due to the aggressive development of muscle-invasive tumors, early diagnosis and timely treatment with a radical intent is essential in these cases. For patients with non-metastatic disease, segmental (partial) or total cystectomy with bilateral pelvic lymphadenec¬tomy or radical radiotherapy preceded by neoadjuvant chemotherapy is recommended. After total cystectomy, reconstructive surgery is needed to store or pass the urine with a negative impact on quality of life for the patients.
Radiotherapy with radical intent for bladder preservation
Radical radiotherapy could be a bladder-preserving alternative to cystectomy for selected patients with muscle-invasive bladder cancers. James et al. found that 67% of patients with T2-4N0M0 muscle-invasive bladder cancer (local disease of different invasiveness) had a 2-year disease-free survival and an overall survival of 48% after bladder-preserving chemoradiation. Muscle-invasive recurrences were only seen in 18 %, toxicity was acceptable and functional bladder preservation was seen in 89 % of the patients (7). Highly accurate tumor delineation and image-guided radiotherapy (IGRT) are essential when using a focal bladder boost in terms of sparing of normal tissue as well as delivering an adequate dose to effectively control the bladder cancer. Since the bladder is a hollow and distensible organ, only fixated at the bladder neck, substantial movement of the bladder wall has been observed in up to 60% of the patients during the radiation course(8). Therefore, large margins are needed for adequate coverage, which leads to more healthy tissue being exposed to radiation, unavoidably causing more radiation-induced side effects. Fiducial markers can meet the need of addressing this movement challenge(9). Data for direct comparison of the therapeutic results between cystectomy and chemoradiotherapy is not available. However, indirect comparison based on meta-analyses data has demonstrated comparable survival and loco-regional tumor control(10,11).
For patients with unresectable or metastatic disease, palliative treatment with chemo- and/or radiotherapy is the only treatment option(4,6).
How can BioXmark® add value in the treatment of patients with bladder cancer?
Increased precision in radiotherapy can hopefully make bladder-preserving treatment available for a larger number of patients who currently undergo total cystectomy. The use of BioXmark® for IGRT of the bladder has been evaluated in phantom as well as human studies. Dr. Hafeez and colleagues from The Institute of Cancer Research, UK evaluated BioXmark® in a porcine bladder model and found that BioXmark was easily visualized at all injection sites on the planning CT, cone beam CT (CBCT) and T1w MRI and concluded that:
"BioXmark provides opportunity to aid bladder tumor localization for radiotherapy planning and delivery. Further work in the clinical setting is now needed"(12).
Dr. de Ridder and colleagues from Amsterdam UMC, NL evaluated the performance of BioXmark® in IGRT for bladder cancer. The study included 20 patients with muscle-invasive bladder cancer. The urologists implanting BioXmark® experienced a steep learning curve of becoming familiar with the implantation procedure and described that:
"The lost markers were mainly due to the learning curve of the implanting technique. In patients where it was injected successfully, the BioXmark® liquid fiducial marker was an easy and clinically very applicable tool for IGRT in bladder-preserving chemoradiotherapy."
"All markers appeared as a circumscribed single dot on the treatment planning CT scans and no blurring occurred" and the implanted markers had a quality that made them suitable for their purpose since "All markers that were present on CT/CBCT scans could be used for delineation, patient setup and for automatic marker matching". The authors concluded that:
"The clinical performance of BioXmark was 79%", "The marker showed sustained visibility and positional stability during treatment phases and also appears to be safe and easy to inject" and BioXmark® "seems to be a very promising tool in daily adaptive IGRT for bladder preserving chemoradiotherapy in muscle invasive bladder cancer"(9).
Besides the features supporting the marker's feasibility as a fiducial marker in bladder cancer, BioXmark® has a number of general benefits.
References
Bray F, Ferlay J, Soerjomataram I, Siegel RL, Torre LA, Jemal A. Global cancer statistics 2018: GLOBOCAN estimates of incidence and mortality worldwide for 36 cancers in 185 countries. CA: A Cancer Journal for Clinicians. 2018 Nov;68(6):394–424.

Globocan 2018 [Internet]. International Agency for Research on Cancer, WHO; 2020 Oct. Available from: https://gco.iarc.fr/today/data/factsheets/populations/908-europe-fact-sheets.pdf

Siegel RL, Miller KD, Jemal A. Cancer statistics, 2019. CA A Cancer J Clin. 2019 Jan;69(1):7–34.

The American Cancer Society [Internet]. Available from: https://www.cancer.org/cancer/bladder-cancer.html

Bladder cancer: diagnosis and management of bladder cancer: © NICE (2015) Bladder cancer: diagnosis and management of bladder cancer. BJU Int. 2017 Dec;120(6):755–65.

Degeorge KC, Holt HR, Hodges SC. Bladder Cancer: Diagnosis and Treatment. Bladder Cancer. 2017;96(8):9.

James ND, Hall E, Rawlings C, Crundwell M, Sizer B, Hendron C, et al. Radiotherapy with or without Chemotherapy in Muscle-Invasive Bladder Cancer. The New England Journal of Medicine. 2012;12.

Turner SL, Swindell R, Bowl N, Marrs J, Brookes B, Read G, et al. Bladder movement during radiation therapy for bladder cancer: implications for treatment planning. Int J Radiat Oncol Biol Phys. 1997 Sep 1;39(2):355–60.

de Ridder M, Gerbrandy LC, de Reijke TM, Hinnen KA, Hulshof MCCM. BioXmark® liquid fiducial markers for image-guided radiotherapy in muscle invasive bladder cancer: a safety and performance trial. BJR. 2020 Jun 1;20200241.

Arcangeli G, Strigari L, Arcangeli S. Radical cystectomy versus organ-sparing trimodality treatment in muscle-invasive bladder cancer: A systematic review of clinical trials. Crit Rev Oncol Hematol. 2015 Sep;95(3):387–96.

Vashistha V, Wang H, Mazzone A, Liss MA, Svatek RS, Schleicher M, et al. Radical Cystectomy Compared to Combined Modality Treatment for Muscle-Invasive Bladder Cancer: A Systematic Review and Meta-Analysis. Int J Radiat Oncol Biol Phys. 2017 01;97(5):1002–20.

Hafeez S, Hansen VN, McNair HA, Harris E, Jones K, Schmidt M, et al. Assessing feasibility of a new fundicial marker (BioXmark) for bladder turmor localization and position verification during radical radiotherapy in a porcine phantom. 2015 May 16 [cited 2020 Apr 28]; Available from: http://engineering-urology.org/am/30EUS_2015.pdf