Nanovi exhibits at the ESTRO 2020 congress
19 November 2020
Nanovi will join the Annual European Society for Radiology and Oncology Congress, ESTRO 2020, taking place as a fully digital event from Monday 23 November to 1 December 2020.
At the congress, Nanovi will welcome visitors to its digital booth for a presentation of BioXmark®, its newly marketed liquid fiducial marker. BioXmark® offers unique features and benefits to help healthcare professionals radiographically mark soft tissue for high precision radiation therapy of multiple cancer types.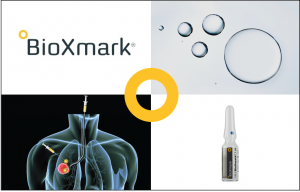 At the ESTRO 2020 congress, results will be presented from two clinical trials, evaluating the performance of BioXmark® in rectal and bladder cancers;
one by the MAASTRO clinic, Maastricht, NL in patients with rectal cancers receiving radiation therapy, ref. Poster PO-1793: "BioXmark liquid fiducials to enable radiotherapy tumor boosting in rectal cancer feasibility trial" by Berbée et al.;
and another by Amsterdam UMC, NL in bladder cancer patients receiving radiation therapy, ref. Poster PO-1209: "A novel liquid fiducial marker for image-guided adaptive radiotherapy in bladder cancer" by de Ridder et al.
In addition, results from a pre-clinical study of the performance of BioXmark® in proton therapy of abdominal cancers, conducted by OncoRay
National Center for Radiation Research in Oncology, Dresden, DE will be presented, ref. Poster PO-1669: "Novel fiducial maker has optimal characteristics for image-guided radiotherapy of abdominal tumors" by Stefanowicz et al.
We look very much forward to the congress and to welcoming you to the Nanovi booth!
Visit Nanovi's digital ESTRO 2020 booth here: Nanovi ESTRO 2020 booth (Open for registered ESTRO attendees from 23 November 2020, 12:00 cet).
——–
Link to ESTRO 2020 online event
ESTRO is a multi-professional society focusing on radiation oncology as a core component of high- quality, multidisciplinary cancer treatment, in partnership with other oncology societies.