The role of fiducial markers
Radiation treatments are given to the patient in smaller portions totaling up to the required dose, this is called fractionation. The number of fractions depends on the diagnosis and the treatment plan.
These are the typical fractionation schemes that are being used to deliver radiotherapy:
Radiosurgery
1 – 9 fractions over 1 – 10 days
Hypo Fractionation
10 – 29 fractions over 2 – 4 weeks
Standard Fractionation
30 – 45 fractions over 5 – 9 weeks
The development in the technology of radiotherapy equipment is enabling that the number of fractions will be reduced even further.
The fewer fractions with a higher dose per fraction, the higher the demand for accuracy. If you miss the target in one or two fractions out of 40 it does not jeopardize the total treatment. If you miss the target in one or two fractions out of 5 it can have a dramatic impact on the treatment quality and also the side effects can be much worse. Another impact of fewer fractions is that the margins around the tumor target must be smaller, in order to avoid high doses to normal tissue.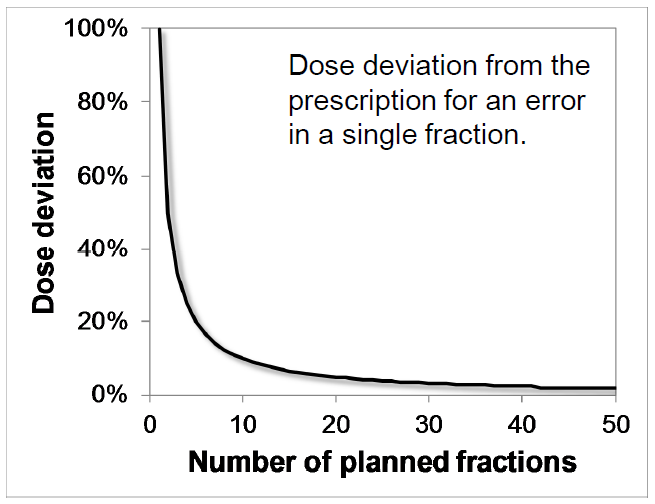 What are the challenges:
To find the correct tumor location on the treatment unit
To find the best surrogate for the tumor location relative to the treatment isocenter
Live monitoring of tumor motion during treatment
Enabling automatic matching – faster procedures
What should a fiducial marker do:
Function as a surrogate for target tissue (by radiographical marking of soft tissue)
Provide positional stability and visibility during both planning and treatment phases
Enable visualization on common image modalities, including X-ray (kV, CT, CBCT, Fluoroscopy), MRI and US
From day to day – inter-fractional:
During treatment session – intra-fractional:
BioXmark®
Visibility and stability – Enabling high precision radiotherapy
Visible on X-ray (kV, CT, CBCT, Fluoroscopy), MRI and US
Low level of artifacts and high contrast
Visibility and positional stability during planning and treatment phases

Size of marker can be customized during injection
BioXmark® doesn't contain water and as a result it produces a hypo-intense (dark spot) contrast under MRI.
BioXmark® 's visibility in all the above-mentioned imaging modalities is shown in the images below.
BioXmark® meets the desired performance of a fiducial marker.
Imaging Examples
The Images below show the visibility of BioXmark® in CBCT, CT and MRI. The graph in the images show the contrast level over time. This clearly shows that the visibility does not degrade during the treatment timeframe.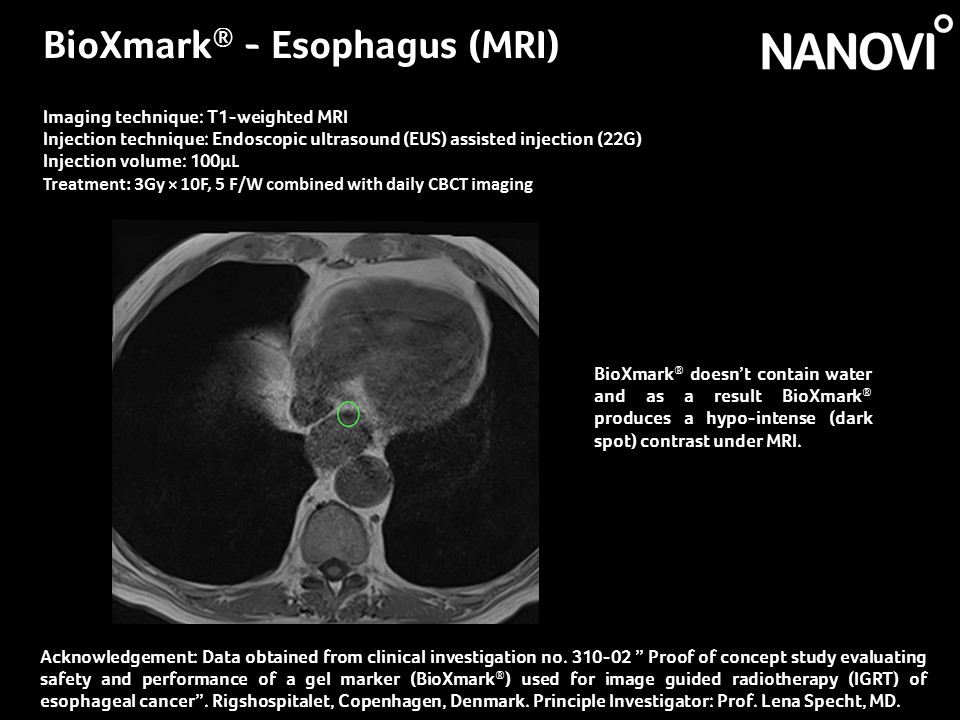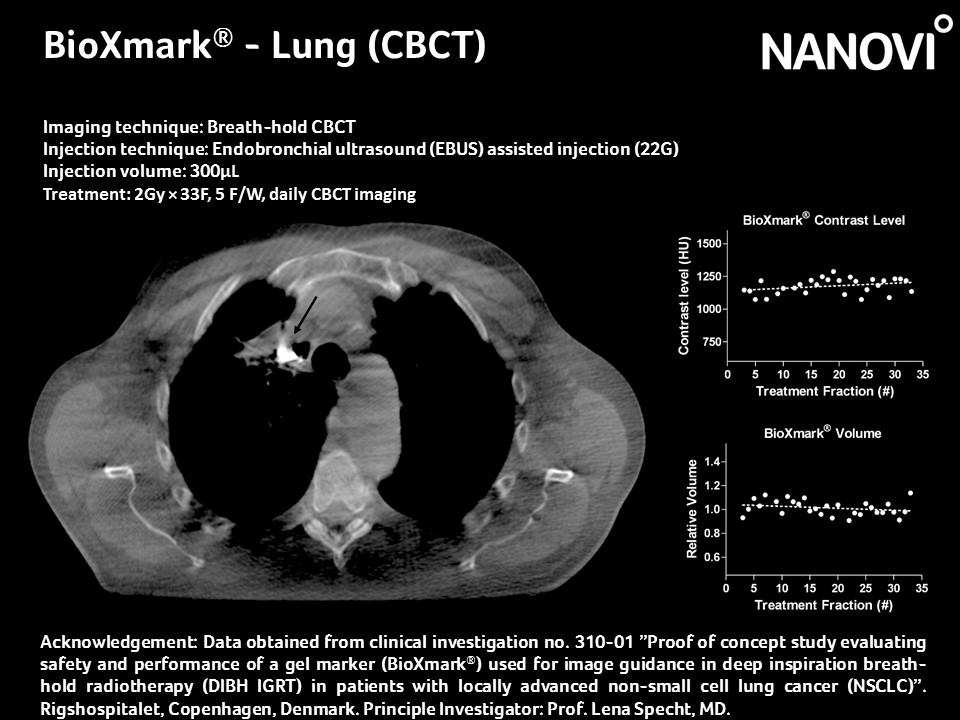 References
1. INTERNATIONAL ATOMIC ENERGY AGENCY, Introduction of Image Guided Radiotherapy into Clinical Practice, Human Health Reports No. 16, IAEA, Vienna (2019).