Image-guided radiotherapy
What is Image-Guided Radiation Therapy1 and how is it used?
Image-guided radiation therapy (IGRT) is the use of frequent imaging of the patient in the treatment position during a course of radiation therapy for the purpose of improving the precision and accuracy of the delivery of radiation treatment.
For more information on radiotherapy in Danish visit: www.straaleterapi.dk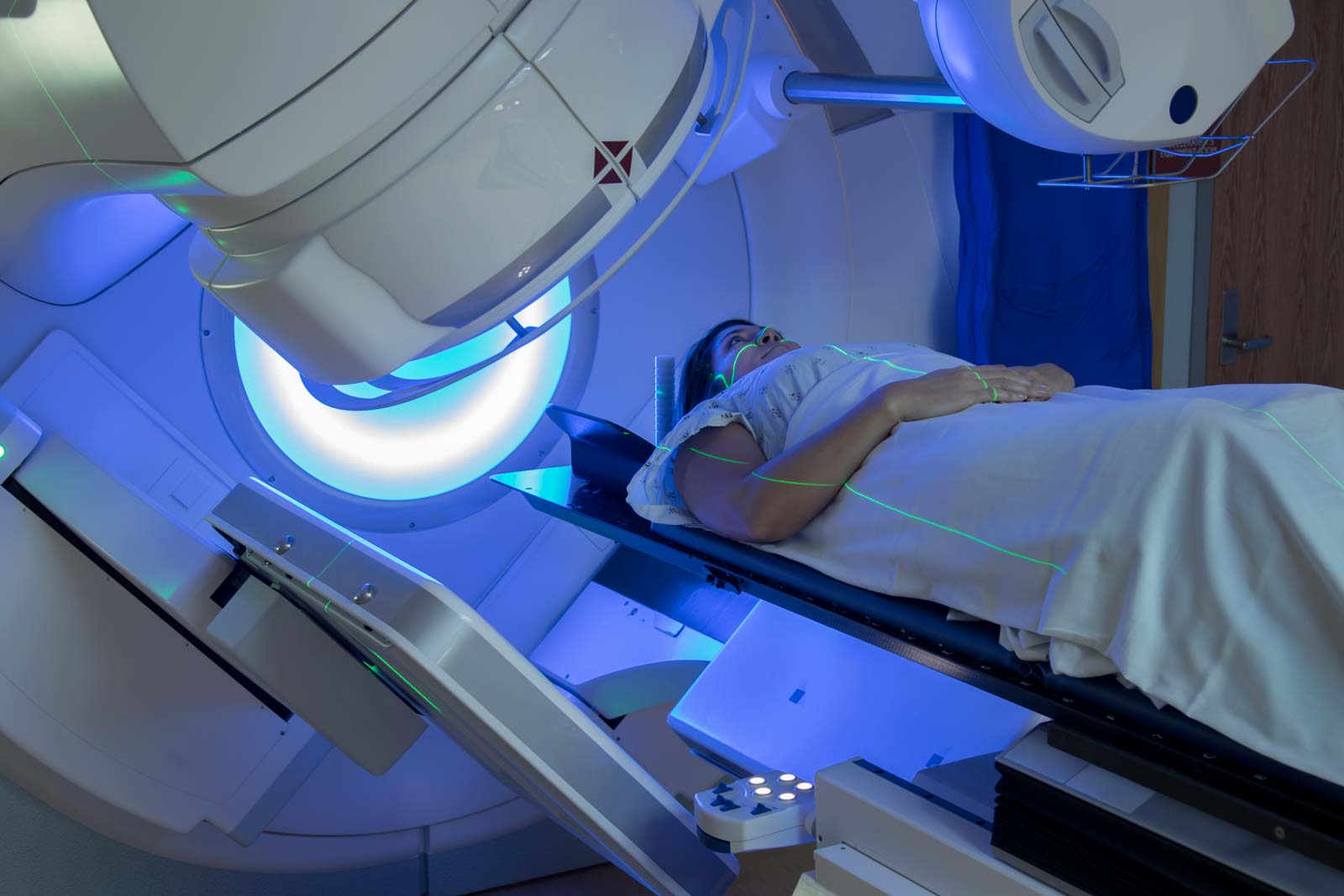 When delivering radiotherapy with IGRT, the treatment unit will have imaging capabilities that can generate images with the patient in the treatment position. This allows the physician and the radiotherapist to image the tumor immediately before or even during the time radiation is delivered. Using specialized computer software, these images are compared to the reference images taken during simulation. Any necessary adjustments are made to the patient's position and/or radiation beams in order to more precisely target radiation at the tumor and avoid healthy surrounding tissue. So IGRT is employed to mitigate errors derived from tumor motion and inadequate patient set-up.
IGRT is used to visualize bony or soft-tissue anatomy by X-ray imaging, including kV, Fluoroscopy, Computed tomography (CT), and Cone Beam CT (CBCT), as well as magnetic resonance imaging (MRI) and ultrasound (US). To enhance IGRT markers placed on the patient's body surface or implanted within the patient's body like BioXmark® can be used.
IGRT is used to treat tumors in areas of the body that are prone to movement, including the lungs (affected by breathing), bladder, rectum, liver, pancreas, and prostate gland, as well as tumors located close to critical organs and tissues. Image-guidance is often used in conjunction with intensity-modulated radiation therapy (IMRT), proton therapy, stereotactic radiosurgery, or stereotactic body radiotherapy (SBRT), which are advanced modes of high-precision radiotherapy that utilize computer-controlled x-ray accelerators to deliver precise radiation doses to a malignant tumor or specific areas within the tumor.
A prerequisite for IGRT is that the target volume can be visualized on the imaging. If this is not possible or difficult then fiducial markers can be a surrogate for target volume and these are clearly visible on the IGRT images.
Radiotherapy is the most cost-effective treatment modality for many cancers and approximately 50% of all cancer patients receive radiotherapy as a part of their treatment.
The main challenge in radiotherapy is to administer a sufficiently high dose to the cancer cells with minimal damage to the surrounding healthy tissue. Tumor motion and inadequate patient set-up are two important factors, which constitute this challenge.
The benefits of IGRT includes:
Accurate delivery of radiation
Improved definition, localization and monitoring of tumor position, size and shape before and during treatment
The possibility of higher, targeted radiation dosage to improve tumor control
Decreased radiation exposure to normal tissue surrounding the tumor
IGRT requires use of frequent imaging and good visibility of tumors and organs at risks. However, soft tissue targets are most often not visible on x-ray images due to a very low tumor to tissue contrast ratio. Hence, soft tissue markers are placed in proximity to the tumor to work as an accurate surrogate.
The availability of radiation therapy equipment with IGRT has been steadily increasing since its introduction more than 15 years ago. Almost all new equipment has IGRT capability.
Image courtesy of Varian Medical Systems, Inc. All rights reserved.
References
1. INTERNATIONAL ATOMIC ENERGY AGENCY, Introduction of Image Guided Radiotherapy into Clinical Practice, Human Health Reports No. 16, IAEA, Vienna (2019).